6 Cancer Fighting Snacks & WHY they fight cancer
No matter if you've chosen chemotherapy, radiation, and surgery or alternative methods to beat your cancer, it's important to eat healthy.
But finding the best snack options can sometimes be tricky and can present questions like: What should be avoided? What snacks will help? Are there snacks that have cancer fighting properties? How do they fight cancer?
When you type in 'healthy food for a cancer patient' into Google, you are given about 26,900,000 results. Some websites say one thing is the ultimate cancer fighting food; others say it's something else. You can spend hours just trying to weed out the good from the bad.
When my parents had cancer, they were given a list of food restrictions – some of which contained fruits and vegetables….
And at that point, you have to ask yourself, "shouldn't I be increasing the foods (e.g. fruits and vegetables) that support my immune system, instead of avoid them??"
Yeah I'm sure we weren't the only ones who had that question.
Please remember that each type of cancer (& patient) is very different. So what is recommended with one cancer (potassium for example), is best avoided with another cancer type. 
Meeting with a nutritionist who is experienced with different types of cancers, is the best way to know what will be most beneficial and what should be avoided.
Staying away from sugar, sodium, and unhealthy fats is a good rule to follow no matter what type of cancer you have.
To make this list, I used nutrition information from when my parents had cancer, as well as recent scientific studies in order to find some of the best snack options for someone fighting cancer.
Cinnamon Apple Chips:
Apples have many health benefits; but only when you choose the right ones. You pick a GMO apple (yes that's a real thing…) that is covered in pesticides – the negatives will outweigh the positives, especially if you have cancer.
The GMO Arctic® apple is made with a non-browning agent. You know how your McDonalds Cheeseburger stays looking the same for years….well now your apples can too! Sounds healthy…..
And remember, US law currently doesn't require any GMO food to be labeled as containing GMO's. So what should you do?
Buy only USDA-certified organic apples. When you buy USDA-certified organic apples (or any produce/processed food for that matter) it means you're eating food grown without toxic synthetic pesticides.
But coming back to those natural apples… they contain high amounts of antioxidants which are disease-fighting compounds. They also supply healthy amounts of vitamin C (which supports your immune system; and if you have cancer that's what you need-especially if you're getting chemo which suppresses your immune system).
These chips only have 3 ingredients:
Organic Granny Smith apples
Lemons
Cinnamon
You can get see the full recipe here: Cinnamon Apple Chips

Avocados:
Avocados are often referred to as a superfood. They contain vitamins B5, B6, C, E, and K, as well as, folate, fiber, healthy fats, and more potassium than a banana.
In addition, avocados have (in smaller amounts) vitamins A, B1, B2, B3, magnesium, manganese, copper, zinc, iron, and protein. It's been shown that avocados contain many cancer preventing nutrients and vitamins. Plus the high levels of vitamin C help support your immune system.
Broccoli:
Broccoli contains healthy sources of vitamins A, B1, B6, C, and K, fiber, manganese, potassium, protein, calcium, and omega-3 fatty acids.
Also, broccoli contains high concentrations of sulforaphane (SFN) which has also been shown to reverse, suppress, or prevent cancer progression for several cancers including: breast, colon and prostate cancer.
Apple Cider Vinegar Drink:
Apple cider vinegar has many health benefits and may be a great cancer fighting drink! Chris from ChrisBeatCancer.com says, "It's rich in enzymes and potassium, which your body uses to regenerate soft tissue, and it's an alkalizer.
Clinical studies have shown:
-It's good for diabetes as it lowers blood glucose levels
-It lowers cholesterol
-It lowers blood pressure and promotes heart health
Studies have also shown it may be able to kill cancer cells or slow their growth.  Nice!"  [1]
He says the most popular way to drink it is to mix a teaspoon raw honey with a teaspoon of apple cider vinegar in a glass of filtered water.
Dr. David Jockers DC, MS, CSCS, wrote an article about apple cider vinegar that was published by The Truth about Cancer. He says, "Apple cider vinegar assists in detoxifying the lymphatic system and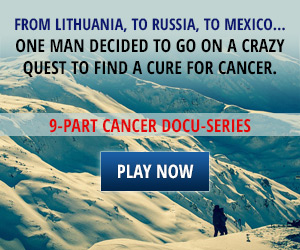 regulating homeostatic functions of the human body. Researchers believe that antioxidants are found in cider vinegar which reduced the oxidative damage done to the body by free radicals and improves the health of our blood and organs.… 
Especially in patients who are immunosuppressed, apple cider vinegar is an excellent natural antimicrobial tonic to rid of harmful bacteria and provide immune support." [2]
For a tasty way to incorporate apple cider vinegar into your diet, try this recipe:
What you'll need:
2 tablespoons organic, raw, unfiltered apple cider vinegar (like pictured above – you can click the image to view info on it at Amazon.com)
3 tablespoons organic apple juice (no sugar added)
6 ounces cold filtered water
A sprinkle of Cinnamon
2-3 cubes ice
How to make it:
Combine all ingredients in a cup and stir or shake to combine. Drink it chilled. (Super easy huh!)
Smoothies:
Smoothies can be an easy way to get essentials nutrients. They can be prepared quickly and with many different ingredients. And you can make smoothies to ease the side effects of chemotherapy which include: loss of appetite, mouth sores, nausea, vomiting and many others.
Smoothies can provide an easy way to get lots of cancer fighting fruits and vegetables and seeds and nuts. In addition, you can also add ingredients to help with nausea (e.g. ginger) and boost your immune system (e.g. turmeric).
For some healthy smoothie options, my article "5 Healthy Smoothies for someone with cancer" can help.
Walnuts:
Walnuts contain high levels of vitamin E, plant-based omega-3 fatty acids (learn more about omega-3 fatty acids and cancer), copper, biotin, and manganese.
Studies done on mice show that, when added to their diet, walnuts inhibited the growth of human breast cancer, reduced the number of mammary gland tumors, and slowed the growth of prostate, colon, and renal cancers.
View the study here.
© 2014 American Society for Nutrition shows a study done on mice. This study shows the difference of mice fed corn oil and mice fed walnuts. Click on the graph to view more info.
As you can see, healthy eating is SO important and even more so when you are fighting cancer. I hope these cancer fighting snacks will help you feel more nourished. Your body needs support and one of the best ways to do that is through the food you eat.
Again, please remember that each type of cancer (& patient) is very different. So what is recommended with one cancer (potassium for example), is best avoided with another cancer type. Meeting with a nutritionist in your area who is experienced with different types of cancers, is the best way to know what will be most beneficial and what should be avoided.
Related Articles:
10 Important Tips for Someone with Cancer
How Chemotherapy Damages your Body: Physical Changes (Part 1)
How Chemotherapy Damages your Body: Internal Damage (Part 2)
Is Your Chemo Actually CAUSING Cancer?
Damage and Side Effects of Radiation Therapy
Curcumin and its Natural Cancer Fighting Properties
The Worst Advice I've Ever Heard an Oncologist Give
Mammography vs. Thermography: The Truth
And if you appreciated the info about these cancer fighting snacks, would like more health tips as well as access to frequent giveaways, subscribe to the weekly newsletter!
Sources:
http://www.ewg.org/agmag/2015/02/apple-day-too-much-pesticide-spray
https://authoritynutrition.com/12-proven-benefits-of-avocado/
http://www.ncbi.nlm.nih.gov/pubmed/22070054
http://www.whfoods.com/genpage.php?tname=foodspice&dbid=9#nutritionalprofile
http://www.chrisbeatcancer.com/mmmm-vinegar/
https://thetruthaboutcancer.com/health-benefits-of-apple-cider-vinegar/
https://ods.od.nih.gov/factsheets/VitaminC-HealthProfessional/#h2
http://www.ncbi.nlm.nih.gov/pubmed/26557472
http://www.ncbi.nlm.nih.gov/pubmed/18991571
http://www.ncbi.nlm.nih.gov/pubmed/24500939
http://www.ncbi.nlm.nih.gov/pmc/articles/PMC3952627/figure/fig1/