I've been Diagnosed with Cancer… What do I do now?
If you have been diagnosed with cancer, no matter what kind or stage, you are probably not sure what to do now. Or you may have been given treatment options but don't like them.
First, know you aren't alone. Most people who have just been diagnosed with cancer feel this way.
And there are probably so many questions that are running through your head and you may not even know who to get the answers from.
Well hopefully I can help. Here are 10 things you need to do if you've been diagnosed with cancer.
1) Reach out
This is the first thing on the list for a reason. No one, who has been given life-changing news, should be alone.
Reach out to friends and family. Find support groups and share your concerns.
2) Find a nutritionist
This is SO important. But unfortunately, many hospitals/cancer centers don't provide one. However, your diet isn't something to ignore.
When you have cancer, there are certain foods to avoid and certain foods to consume frequently. And those foods will be different depending on the type of cancer you have.
Please do some research to find a nutritionist in your area who is experienced with cancer.
3) Work with a Cancer Coach
If you've just been diagnosed with cancer, you are probably feeling many emotions, including fear. And no one can make educated decisions when they're operating out of fear.
That's where a cancer coach comes in. A cancer coach can help guide you and help ease any fear you have which can make a huge difference during your cancer treatment. To read more about what a cancer coach does, click here.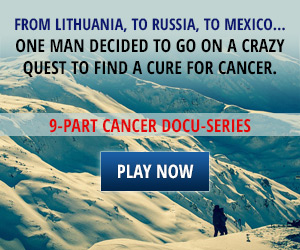 4) Change your Lifestyle
This is another big one. All of these points are so important, so please don't pick and choose which ones to follow, follow all of them.
Making lifestyle changes is hard for anyone, that's just the truth. It's easier to take a pill everyday than it is to change your diet. It's easier to get surgery than to exercise for months to get healthier.
But without lifestyle changes, your life isn't going to change, it's that simple.
Cancer is not a punishment or a death sentence. It's a cry from your body for help. It's something that has gone wrong, and continued to go wrong for years.
Most cancers are developed over time because of the poisons we put in and around our body – the fake food, the unhealthy water, the polluted air, the chemicals in our daily products, etc.
So even if you decide chemotherapy is the treatment you want to use, if you continue eating ice cream after each meal, drinking a soda every day, and not exercising, you aren't going to see the changes you are hoping for. And even if the cancer goes away for a time, it will most likely return if your lifestyle doesn't change.
5) Eat Right
This goes along with the previous point, but it's such a big part of stopping and reversing the growth of cancer. Here's what you need to do now:
1. Cut out refined, artificial sugar. Everyone has a sweet tooth (or most people I should say) so if you are craving something sweet, instead of reaching for an ice-cream cone, juice some fruit or make a smoothie. I have recipes on my website; the links to them are provided in the next point.
2. Eat organic. It's going to make a difference in your health. I'd like you to read this article, GMO-You have the Right to Know. I also encourage you to take this quiz, Test your Knowledge on Organic Food; you may find out some interesting facts. And, for more information on the importance of eating healthy when you have cancer, read The Worst Advice I've Ever Heard an Oncologist Give.
3. Eat healthy snacks. Avoid processed snacks b
y making your own. Here are 6 Cancer Fighting Snacks (as well as why they fight cancer).
4. Consume foods that are known to fight cancer. Here are a few, click on each of the words below to read about them.
– Garlic
– Ginger
6) Drink the right things
Cutting out refined, artificial sugar means no more soda, milkshakes, etc. And while sugar makes up a large part of those drinks, there are many things in them that someone with cancer should avoid.
But just because you need to stop drinking certain things, that doesn't mean what you can drink needs to be boring.
Here is what you should be drinking:
1. Water – Drink alkaline water. You can find many alkaline pitchers and filters on Amazon. This is the one I use. Just make sure to check reviews to make sure it's legitimate and test the alkaline levels of the water yourself. And if water has become boring to you, you can add organic fruit to it to enhance the taste.
2. Juicing – Read all about juicing, including the difference between juicing and blending, here. And if you'd like some recipes, read my article, 10 Powerful Juicing Recipes that Fight Cancer.
3. Smoothies – Smoothies are a great way to consume lots of vitamins and extra calories (which many cancer patients find they need – especially if they are using chemotherapy). I recommend you read my article, 5 Healthy Smoothies for Someone with Cancer.
7) Do your Research!!!!!
Please, please, please do your own research!!! Click here to read all about radiation therapy, chemotherapy, and surgery. Get educated so you can make an informative decision about your treatments.
Don't just go along with whatever the doctor says; research the drugs they are recommending. And ask your doctor questions! (See below.)
8) Ask your doctor questions
As I stated above, don't just go along with whatever your doctor says. After you do some research on your own, question your doctor so you have a better picture of what procedures/drugs you feel comfortable agreeing to and which you want to refuse.
If you aren't sure why you should question your doctor, read this article, Should you Question your Oncologist?
And if you don't know which questions to ask, here are 25 very important ones (including a printable that you can take with you to the doctor.)
9) Take your time
Doctors often scare patients into getting rid of a tumor now, or starting chemo now…
But neither cancer nor a tumor suddenly appears overnight. Many tumors take years to form and cancer itself can take years to even be detected.
So you have some time. Time to understand what to expect; time to research; and time to adjust.
Don't be scared into thinking something drastic is going to happen if you don't get the tumor removed in the next 7 hours. (*Disclaimer: This statement is generalized as some tumors can be life-threatening – such as if it is pressing on a blood vessel – and those should be removed quickly.)
10) Get rid of chemicals around your house
You're surrounded by chemicals and carcinogens on a daily basis. And you may not even be aware of it. Things like perfume, air fresheners, household cleaners, antiperspirants, cosmetics, nail polish, and bath products all pose serious health risks.
Now, am I saying you can't use any of those things? Absolutely not; however, I HIGHLY recommend you purchase organic products to replace them.
Here's where to begin:
1. Make up, perfume, bath products:
So Well® is a company that makes organic make up, perfume, and home and bath products.
2. Nail Polish:
You can find out lots of information about nail polish, including which companies sell organic nail polish, by clicking here.
3. Home Cleaners:
Shaklee® is a company I've had people recommend (I've personally never used their products though) for cleaning supplies and other home necessities that do a great job and are all natural!
4. Air Fresheners:
As far as air fresheners go, I recommend using essential oils (in a spray or diffuser) instead of the many air fresheners that are nothing but chemicals. My favorite scents to diffuse are peppermint and orange. And this is the diffuser I use and recommend.
5. Toothpaste:
Speaking of essential oils, I also use toothpaste made by doTERRA. I have been using it for several months now and can honestly say I love it! Each tube is about $11 but I feel it's completely worth the money.
Here is what doTERRA says about it: "The On Guard blend of wild orange, clove, cinnamon, eucalyptus, and rosemary essential oils provides a first line of defense against germs and other pathogens that can infect the mouth and throat. Additional essential oils of peppermint and wintergreen and the natural sweetener xylitol give On Guard Natural Whitening Toothpaste a refreshingly unique cinnamon-mint flavor leaving breath (and toothbrush) fresh and clean throughout the day."
You can view more about it by clicking the picture below.
I hope this list helps you! I know how scary it is to hear a cancer diagnosis. So please, I encourage you to reach out to those around you.
Also, you're welcome to leave a prayer request in the comments (or message me). And if there are any questions or suggestions you have, please leave a comment.