100+ People who Cured their Cancer Naturally
The purpose of this list is to help anyone who is thinking about healing their body naturally. It is to encourage you and give you hope.
The list is separated by type of cancer (in alphabetical order) for convenience. Similar cancers or cancers that are in the same region of the body are grouped together.
Chemotherapy, radiation, and surgery are used in conventional treatments. However, all of those options bring terrible side effects and harm to many parts of the body. Here are a few articles I recommend you reading for more on that.
How Chemotherapy Damages Your Body: Physical Changes
How Chemotherapy Damages Your Body: Internal Damage
Is Your Chemo Actually Causing Cancer?
Damage and Side Effects of Radiation Therapy
Also, for privacy purposes, only the 1st name of each person is provided. I realize critics will think, 'well you could just make up names!', but I assure you, every person on this list is 100% real. And a person may be listed under more than one cancer if they have cured several different types; however, they are only counted once.
These are people I either know personally and/or have researched or been told their story. Many of these people you can also research yourself and if they have a website or a story you can read, you can access it by clicking on their name (if it's blue).
These are people who believe there is a better way than poisoning the body. And have proven that it's possible!
I pray this list encourages you! 🙂
People I know, have researched, or have been told their story of how they cured their cancer naturally
Bladder Cancer (3 people listed)
Brain Cancer (9 people listed)
Sophia – Sophia was only a year old when she was diagnosed with rare brain cancer. Doctors had written her off, and told her parents she wouldn't see her 2nd birthday. This article talks about her celebrating her 16th birthday!
Dustin:
Breast Cancer (13 people listed)
Dr. Veronique – Author of Heal Breast Cancer Naturally: 7 Essential Steps to Beating Breast Cancer
Crystal
Tamara – Author of Defeat Cancer Now: A Nutritional Approach to Wellness for Cancer and Other Diseases
Suzanne – Here is her story. Click her name to see her website. Suzanne is the author of Knockout: Interviews with Doctors Who Are Curing Cancer–And How to Prevent Getting It in the First Place
Kristen – "I was diagnosed in June this year (2016) and chose to have a lumpectomy but no chemo/radiation. I was HER+ but only by 15% . By December 2016, a 3D mammo and CT scans showed the cancer was gone.
Upon being diagnosed I completely cut out sugar and carbs. I started taking L Glutamine 2x daily to heal leaky gut and the inflammation associated.
I also started using frankincense 2x daily and began drinking 1 serving of a green superfood daily. I also started juicing 30oz of carrots, beets, celery, ginger root, and cabbage daily. And I recently started adding half of a lemon.
Upon waking I drink a detox drink consisting of: 1/2 glass filtered water, 1/2 glass Raw coconut water with 1T apple cider vinegar, 1T organic lemon juice, and a sprinkle of cayenne. At lunch I drink a 12 oz glass of bone broth protein powder with turmeric. At dinner I allow myself chicken or fish with either quinoa or brown rice and lots of veggies. Once per week I will eat red meat.
My supplements are:
– 50mg zinc
– 2T of flax oil daily
– Magnesium
– 5,000 IU food based Vit D capsule
– Bilberry and Pycnogenol to prevent cancer cells from spreading
– Organic B complex vitamin
– Probiotics 2x daily. One of the probiotics have digestive enzymes and the other is soil based liver complex with mushroom blend
– Potassium
– Turmeric with black powder (learn more about that here)
– Food based Multi vitamin
– Melatonin
For two weeks I also did a detox that I purchased through my practitioner that detoxes kidneys, liver and colon at the same time. The name of it is Xymogen 6 day detox. I still take the drainage drops and colon capsule daily.
I also take detox baths a couple of times per week."
Here is a picture of the supplements she takes. Many of them can be found on Amazon.
Linda – Author of I Gave Myself Cancer, I Can Take It Away! Alternatives Brought Me Back to Life
Alice – "Hi Serena, I was diagnosed with stage 2 breast cancer in 1985 and rushed into surgery and chemo.  By 1987 I had educated myself, a difficult undertaking in the days before the internet, and I switched to a holistic doctor.  When I had a recurrence in 1988, my new doctor treated it with enzymes and other natural therapies.  I have been fine ever since using diet and supplements to keep my immune system strong."
Carla
Cervical, Ovarian, Vaginal, Uterine Sarcoma, Endometrial Cancer (8 people listed)
Evita – Author of the book, The Bliss of Cancer: How I Cured Cancer Naturally, Lost Weight, And Turned My Life Around
Colon, Anal, Rectal Cancer (8 people listed)
Elena:
Chris (from ChrisBeatCancer.com – read why he didn't do chemo here)
Lance – This is Lance's story told by his sister-in-law. "Hi Serena – I read your post about curing cancer naturally. My brother-in-law has Stage 3B colon cancer – he did the chemo and radiation – felt all the pressure by the doctors. After he was first diagnosed, they introduced him to his "team" – his radiologist, the chemo doctor, etc., etc., then my brother-in-law asked him where his nutritionist was and they were quite dumbfounded by that question! Anyway, he listened to them and did their treatments but alongside of that went in for Vitamin C IV treatments and when it came time for the surgery to remove the tumor, they couldn't find it!  Of course, they still want him to keep doing their treatments, but after watching "The Truth about Cancer," he is now just continuing the Vitamin C treatments."
Rev. George – Author of The Hallelujah Diet: Experience the Optimal Health You Were Meant to Have
Epithelioid Sarcoma (2 people listed)
Jessica – At age 22, Jessica was told she would have to lose her arm and begin chemotherapy and radiation. She knew there was a better way and cured her rare cancer naturally using the Gerson Therapy.
There is no name mentioned, but here is another person's story of healing Epithelioid Sarcoma naturally.
Gallbladder, Liver, Pancreatic Cancer (8 people listed)
Felicity – "In 2003, Felicity was diagnosed with pancreatic cancer and given six weeks to live, but she healed it with a body-mind-spirit-environment program based on the diet found in Genesis 1:29-30, and Daniel 1." Read more here.
Kim:
Kidney Cancer (4 people listed)
Jason:
Leukemia (ALL, AML, CLL, CML, CMML) (6 people listed)
Fiona (same woman and link as under 'cervical, ovarian…' above)
John – Click here to read how to make dandelion tea as well as dosage info.
Earnie (same man from 'brain cancer' above)
Lung Cancer (7 people listed)
Ann – Healed her lung cancer and colon cancer with carrot juice.
Carl – Carl is a 38 year lung cancer survivor who healed himself naturally. He is the author of the book, You Can Beat Lung Cancer: Using Alternative/Integrative Interventions.

Stan:
Hodgkin's Lymphoma, Non-Hodgkin's Lymphoma (9 people listed)
Cortney – click here to read her story. Click her name to see her website.
Multiple Myeloma (3 people listed)
Michael – Author of Living Proof: A Medical Mutiny
Dr. Charlie – "Cancer is not an accident. It's not bad luck. It's not your genetics…you caused it. Cancer is nothing more than a survival mechanism that occurs when you are depleting your body of what it needs. Your normal cells have to have oxygen in order to survive. If they're not getting enough oxygen, then the body employs an adaptive mechanism that converts a normal cell into a cancerous cell. This buys the body time so you have a chance to change and save your live. You will never die from the cancer, you will die from what caused the cancer, and what made you sick in the first place." Dr. Charlie Majors.
Prostate, Testicular, Penile Cancer (10 people listed)
Jeffery – Used information from The Hallelujah Diet: Experience the Optimal Health You Were Meant to Have by Rev. George (as mentioned in 'colon, anal, rectal cancer' above) as part of his natural healing regimen.
Kev
Skin Cancer (Melanoma, BCC, SCC) (8 people listed)
Marcia (same woman as under 'lung' and 'thyroid')
Chris
Howie:
Stomach Cancer (2 people listed)
Thyroid Cancer (4 people listed)
Marcia (same woman as under 'lung' and 'skin' cancer)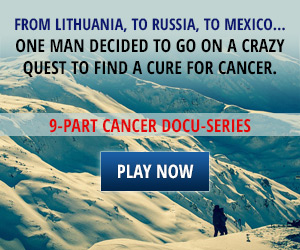 When you are given a cancer diagnosis, there is so much pressure to do chemo and other conventional treatments.
You are often scared by your doctor or family members into making decisions that you haven't been educated on. Unfortunately, many cancer patients have heard from their oncologist that if they don't do exactly what the oncologist says, they will die. This simply isn't true, and every single person on this list is proof!
I hope this list restores your faith and gives you hope that you truly can cure cancer naturally.
For more information on chemo, radiation, and surgery, click here.
And for information on natural treatments, exercising, and tips to stay healthy when you have cancer, click here.
(Please provide full credit as well as a link to this article if sharing on another website.)
If you appreciated this article, would like more health tips, and access to giveaways, subscribe to the weekly newsletter below.