5 Myths about Cancer and the Facts you Need to Know
There are many myths about cancer and conventional treatment options.
Many of the myths surrounding cancer can be frightening, but knowing the truth can make a big difference in the prevention, treatment, and recovery of cancer.
If you've been diagnosed with cancer, separating the truth from these myths is very important.
Also, I highly recommend you read the articles I reference to in this post. You'll gain more insight into your cancer diagnosis and what steps to take.
1)

MYTH:

Chemotherapy, radiation therapy, and/or surgery are the only ways to treat cancer.
TRUTH:

While they are the most used treatment options, they aren't the only ones.
And the majority of cancer patients are scared into using these conventional treatments without knowing there are any other options.
They are scared into thinking nothing else is worth trying and that no other treatments will work. When really, chemotherapy doesn't work very well. In fact, chemotherapy has a success rate of less than 5%.
Astonished at this figure, yeah I was too.
A study, "The contribution of cytotoxic chemotherapy to 5-year survival in adult malignancies" done at the end of 2004 showed:
RESULTS:
"The overall contribution of curative and adjuvant cytotoxic chemotherapy [drugs used to kill cells] to 5-year survival in adults was estimated to be 2.3% in Australia and 2.1% in the USA."
CONCLUSION:
"It is clear that cytotoxic chemotherapy only makes a minor contribution to cancer survival. To justify the continued funding and availability of drugs used in cytotoxic chemotherapy, a rigorous evaluation of the cost-effectiveness and impact on quality of life is urgently required." [1]
For the entire study, click here. [2]
While it takes a lot of faith to try something else, there is a lot of evidence that if you give your body what it needs to fight the cancer, it will. In fact, here are over 100 people who cured their cancer naturally.
Now, I'm not saying you shouldn't use chemotherapy, radiation therapy, or surgery. However, there are wonderful cancer-fighting foods (such as ginger, curcumin, and garlic) as well as fruits and vegetables that boost your immune system. All of which should be used during conventional treatments so that you support your immune system.
2)

MYTH:

Diet has no role when fighting cancer.
TRUTH:

Diet plays a major role in the prevention, treatment, and recovery of cancer.
While doctors don't receive much training on nutrition and how it impacts a person, that doesn't change the fact that diet really does play a major role in a person's health.
From my article (which I highly recommend you read), The WORST Advice I've Ever Heard an Oncologist Give, "Let's look at it like this… You eat McDonald's hamburgers, fries, a milkshake, and candy every day. You're not only feeding cancer cells, but you're also not helping your immune system fight the cancer. And you'll probably develop high blood pressure and diabetes.
Morgan Spurlock, in the movie Super Size Me, decided to challenge the idea that it doesn't matter what you eat. He ate breakfast, lunch, and dinner at McDonald's for 30 days. "The movie is a shocking testament to the health effects of fat-laden, calorie-dense and processed foods. In 30 days Morgan not only developed high blood pressure, sky-high cholesterol and a fatty liver bordering on cirrhosis, but he also gained 25 pounds, became depressed, moody, lethargic and completely lost his sex drive."
Now you do the opposite of that, start eating only foods high in healthy fats and food containing amazing anti-cancer properties, you'll have MUCH better results. This is because you are giving your body what it needs to be healthy and fight the cancer. Which, by the way, is what your immune system is naturally designed to do." [3]
As the University of Minnesota puts it, food is a source of information for the body and it acts as medicine–to maintain, prevent, and treat disease.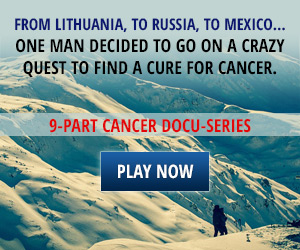 3)

MYTH:

Chemotherapy only has a few side-effects.
TRUTH:

There are many cancer patients who aren't told all the side-effects that their chemotherapy can cause, including the fact that many cause secondary cancers and are listed as carcinogens.
Besides the fact that many chemo drugs cause secondary cancer, here are some of the other side-effects and damages that chemotherapy causes to your body:
– Hair loss
– Weight loss
– Vomiting and nausea
– Mouth sores
– Skin changes
– Premature aging
– Damage to your heart, nervous system, and organs
– Muscle loss
– Decreased immune function
– And more… For more information, read these articles:
How Chemotherapy Damages Your Body: Physical Changes (Part 1)
How Chemotherapy Damages Your Body: Internal Damage (Part 2)
And chemotherapy isn't the only conventional treatment with horrendous side-effects – radiation therapy and surgery have terrible side-effects as well, which you can read about here.
4)

MYTH:

Oncologists are like other doctors, in that they don't make money off the drugs they prescribe.
TRUTH:

Oncologists (cancer doctors) profit from the sale of chemotherapy drugs.
This is one of the largest myths about cancer since most people don't know that oncologists make a pretty large commission off the chemotherapy drugs they prescribe.
The following is from NBC News:
"The significant amount of our revenue comes from the profit, if you will, that we make from selling the drugs," says Dr. Peter Eisenberg, a private physician who specializes in cancer treatment.
Doctors in other specialties simply write prescriptions. But oncologists make most of their income by buying drugs wholesale and selling them to patients at a marked up prices.
"So the pressure is frankly on to make money by selling medications," says Eisenberg.
Ethicists see a potential for conflict of interest.
"They might have a preference to give you the one that they're going to make the most money from," says Arthur Caplan with the University of Pennsylvania Center of Bioethics. Caplan also writes MSNBC.com's Breaking Bioethics column.
This unique payment system started years ago because Medicare and insurers wanted to save money by moving cancer treatments out of the hospital. But it has come under increasing scrutiny as prices for some cancer drugs skyrocketed to tens of thousands of dollars a year. [4]
5)

MYTH:

Doing research on alternative treatments and finding information on what to do when you have cancer is hard to do.
TRUTH:

It's not.
Here's what I recommend: start here – I've been Diagnosed with Cancer… What do I do now? & 10 Important Tips for Someone with Cancer
After reading those two articles, read (and print the PDF) – 25 Questions you MUST ask your Doctor before Beginning Chemotherapy
Then, find a fantastic nutritionist/naturopath in your area who can work with you no matter what treatment you decide to do.
And if you're not sure where to begin with your diet, click here. By clicking on that link, you'll find juicing recipes, smoothie recipes, cancer-fighting snacks, and information on what foods fight cancer.
If you liked the content in this article, would like extra encouragement and health information, as well as access to giveaways, subscribe to my weekly (free) newsletter:
Sources & References:
https://www.ncbi.nlm.nih.gov/pubmed/15630849  [1] https://www.healthfaithstrength.com/how-chemotherapy-damages-your-body-physical-changes/  [2] https://www.healthfaithstrength.com/worst-advice-from-oncologist/  [3] http://www.nbcnews.com/id/14944098/ns/nbc_nightly_news_with_brian_williams/t/cancer-docs-profit-chemotherapy-drugs/#.WFmXGxorJdg  [4]