Can the Sun help Prevent and Fight Cancer?
Every summer we hear the same message, "Use sunscreen with a high SPF or you'll get skin cancer!"
What if I told you that's not 100% true?
In fact, it's been shown that responsible exposure to the sun can actually prevent and fight cancer!
When the body is exposed to the sun, it produced vitamin D. And vitamin D is very important to our health.
It's also been shown that vitamin D deficiency has been linked to many health problems.
Dr. Michael Holick, an American endocrinologist who specializes in the field of vitamin D, says in one article, "Vitamin D deficiency is an unrecognized epidemic among both children and adults in the United States…
Vitamin D deficiency not only causes rickets among children but also precipitates and exacerbates osteoporosis among adults and causes the painful bone disease osteomalacia. Vitamin D deficiency has been associated with increased risks of deadly cancers, cardiovascular disease, multiple sclerosis, rheumatoid arthritis, and type 1 diabetes mellitus." [1]
As you can see, getting adequate sun exposure is very important to our overall health. It's also very important in the fight and prevention of cancer.
How does the Sun Prevent and Fight Cancer?
As mentioned above, when the body is exposed to sunlight, it produces vitamin D. And optimal vitamin D levels are an important key to prevent and fight numerous types of cancer.
Dr. Mercola states on the subject, "From a scientific point of view, vitamin D reduces the risk of many forms of cancer and increases survival rates once cancer reaches a detectable stage." [2]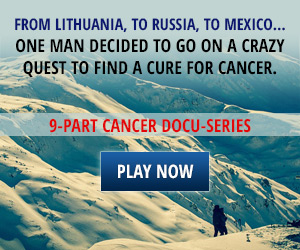 In an article by Dr. Michael Holick, he states, "Recent studies suggested that women who are vitamin D deficient have a 253% increased risk for developing colorectal cancer, and women who ingested 1500 mg/d calcium and 1100 IU/d vitamin D(3) for 4 yr reduced risk for developing cancer by >60%." [3]
He goes on to say the risk of developing colorectal, prostate, and breast cancer is reduced 30-50% by "either increasing vitamin D intake to least 1000 IU/d vitamin D or increasing sun exposure to raise blood levels of 25(OH)D >30 ng/ml." [3]
Many studies have linked healthy levels of vitamin D with a lowered risk of developing several cancers including: colon, pancreatic, ovarian, and breast cancers. In fact, patients who have been diagnosed with cancer are at an increased risk for vitamin D deficiency.
Dr. Holick says responsible sun exposure, "vitamin D fortification, and vitamin D supplementation should be encouraged to improve the vitamin D status of children and adults not only for bone health but for reducing risk of developing and dying of cancer." [4]
But what about skin cancer?
Melanoma & Other Skin Cancers
Melanoma is the deadliest form of skin cancer; however it's also the rarest of the skin cancers.
This study found that a person who had greater amounts of sun exposure prior to being diagnosed with melanoma has a greater chance of survival than someone who had little sun exposure.
In fact, at a 2012 Health Education Seminar, Dr. Daniel Coit shared his research on melanoma. Dr. Coit is a surgical oncologist at Memorial Sloan Kettering Cancer Center.
Based on his research, most melanoma cases are related to family history. Dr. Coit referred to melanoma as a disease of gene mutations.
Dr. Coit said melanoma doesn't directly develop from increased sun exposure. This means sunscreen and avoiding the sun altogether will not prevent melanoma. [5] [6]
Prolonged sun exposure, repeated sun burns, and tanning beds all contribute to the other forms of skin cancer: Basal Cell Cancer and Squamous Cell Skin Carcinoma.
So it's recommended to be in the sun for 10-15 minutes, with your hands, arms, and face exposed to the sun. After that apply healthier
sunscreen options such as the ones pictured here.
Both of these options are recommended by Chris from ChrisBeatCancer.com.
The one from AnnMarie (to the left) can be used on your face. The item from Aubrey Organics (right) is a healthier sunscreen option to use on your body than those you regularly see at the store.
How much Vitamin D is recommended?
Dr. Mercola provides these 2 tables on his recommendations. The first is the dosage and the second is what you want your numbers to show after doing a blood test. [2][8]
Also note, according to the World Health Organization, 5-15 minutes with your hands, arms, and face exposed to the sun 2-3 times per week is sufficient in keeping your levels of vitamin D at a recommended
amount. For someone living close to the equator, even shorter periods of exposure are acceptable to obtain the same results because UV levels are greater.
But for vitamin D to be produced, your skin needs to be exposed to the sun. So wearing clothing over the skin or using sunscreen will inhibit the production of this necessary vitamin. [7]
Dr. Michael Holick reminds us, "Although chronic excessive exposure to sunlight increases the risk of nonmelanoma skin cancer, the avoidance of all direct sun exposure increases the risk of vitamin D deficiency, which can have serious consequences." [1]
He says, "The goal is to achieve a blood level of 25-hydroxyvitamin D of 40-60 ng/mL. This can be accomplished by children taking 600-1000 and adults 1500-2000 international units (IU) vitamin D daily from diet and supplements along with sensible sun exposure when the sun is capable of producing vitamin D in the skin." [4]
As you can see, it's so important for everyone to get adequate sun exposure!
Similar Articles:
Proof that being outside is Awesome for Your Health
Garlic, a Natural Way to Prevent and Fight Cancer
Ginger: A Natural Cancer Fighter
Curcumin and its Amazing Cancer Fighting Properties 
10 Important Tips to Keep your Family Healthy
10 Important Tips for Someone with Cancer
Exercising with Resistance Bands when you have Cancer
Sources:
http://www.ncbi.nlm.nih.gov/pubmed/15585788  [1]
http://articles.mercola.com/sites/articles/archive/2009/01/20/the-overwhelming-evidence-that-sunlight-fights-cancer.aspx   [2]
http://www.ncbi.nlm.nih.gov/pubmed/18550652  [3]
http://www.ncbi.nlm.nih.gov/pubmed/18406602?ordinalpos=8&itool=EntrezSystem2.PEntrez.Pubmed.Pubmed_ResultsPanel.Pubmed_DefaultReportPanel.Pubmed_RVDocSum
http://www.ncbi.nlm.nih.gov/pubmed/23094923   [4]
https://thetruthaboutcancer.com/sun-exposure-cancer/   [5]
http://theheartysoul.com/sunlight-prevents-cancer/   [6]
https://www.healthfaithstrength.com/outside-is-awesome-for-health/   [7]
http://articles.mercola.com/sites/articles/archive/2012/02/23/oral-vitamin-d-mistake.aspx  [8]