Damage and Side Effects of Radiation Therapy
Radiation therapy is used frequently during conventional cancer treatments. The high-energy radiation damages your cell's DNA, attempting to destroy their ability to grow and divide.
Radiation is delivered using machines, called accelerators, or by using radioactive sources that are placed in your body, temporarily or permanently.
The idea behind radiation is that by damaging the cancer cell's DNA, it will cause enough damage that it can't be repaired, which causes the cancer cells to die.
While this idea is good in theory, it also damages the healthy cells around the cancer cells causing serious long-term damage.
Short-term damage is caused by the radiation itself and will also be discussed below.
I mentioned at the beginning that radiation therapy uses high-energy radiation, but just how much is being used? Well, your average x-ray, like if you break your arm, uses about 120,000 electron volts to produce that x-ray.
In comparison, radiation therapy that is used for cancer patients produces about 6,000,000 (6 million) electron volts and can go as high as 20,000,000 (20 million) electron volts.
In other words, you're receiving 50-166 X more radiation when you're sick with cancer.
What does this amount of radiation do to your body?
General Short-Term Damage and Side Effects of Radiation Therapy
Fatigue
Damage to skin causing skin problems, such as:

Dryness
Itchiness
Blistering
Peeling

Short-Term Damage and Side Effects of Radiation Therapy to the Specific Areas that Radiation is being Directed
Head/Neck
Dry mouth
Sores in the mouth and gum area
Tooth decay
Trouble swallowing
Jaw stiffness
Swelling
Nausea/Vomiting
Chest/Stomach/Abdomen
Trouble swallowing
Nausea/Vomiting
Breathing difficulties
Cough, fever
Radiation pneumonitis which is the acute manifestation of Radiation-Induced Lung Disease (RILD) – if left untreated, can cause radiation fibrosis (below)
Radiation fibrosis (scarring on the lungs that is permanent from untreated radiation pneumonitis)
Breast/nipple pain and soreness
Diarrhea
Pelvis
Rectal bleeding and diarrhea
Urinary and/or Fecal Incontinence

Urinary incontinence is the involuntary leakage of urine
Fecal incontinence is the inability to control your bowel movements, causing stool to leak from your rectum unexpectedly

Fertility Issues for Men:

Impotence and other sexual problems
Lowered sperm counts and reduced sperm activity

Fertility Issues for Women:

Changes in menstruation
Symptoms of menopause such as:

Vaginal itching
Burning
Dryness
Long-Term Damage and Side Effects of Radiation Therapy
Damage to the heart and lungs from radiation to the chest.
Because of the short-term damage to sexual organs, the ability to get pregnant or father a child may be lost
Fluid build-up and swelling in parts of the body (called lymphedema)
Secondary cancer, especially

Multiple Myeloma
Leukemia
Thyroid Cancer
Bladder Cancer
Breast Cancer
Lung Cancer
Ovarian Cancer
Chemotherapy causes many of the same side effects as radiation therapy. So if you are doing both, you're probably feeling worse than if you were just doing one or the other.
Read about the damage chemotherapy causes here:
How Chemotherapy Damages Your Body: Physical Changes
How Chemotherapy Damages Your Body: Internal Damage
The main problem (in my opinion) with radiation therapy is that it causes cancer. Maybe it's just me, but it doesn't make too much sense to fight cancer with something that causes cancer; however, many chemotherapy drugs do the same thing (which you can read about in my article, Is Your Chemotherapy Actually Causing Cancer?)
From Cancer.org (the American Cancer Society), "X-rays and gamma rays are known human carcinogens (cancer-causing agents). The evidence for this comes from many different sources, including studies of atomic bomb survivors in Japan, people exposed during the Chernobyl nuclear accident, people treated with high doses of radiation for cancer and other conditions, and people exposed to high levels of radiation at work, such as uranium miners." [1]
Studies have found that people who are exposed to radiation are at an increased risk of developing multiple myeloma, leukemia, thyroid cancer, as well as bladder, breast, lung, and ovarian cancer.
This is why most people who have radiation treatments get secondary cancers.
Couple that with the fact that many chemotherapy drugs do the same thing, and it's no mystery that most people who treat their cancer with conventional treatments, get a second cancer years later, or their cancer never truly goes away.
Then the second cancer is more resistant but treated again with chemo and radiation. You are 'cancer-free', then it comes back again years later and the process continues. ($$$)
But there is hope. Chemotherapy and radiation are not the only options for cancer patients, contrary to Big Pharma's belief (and goal). In fact, here are over 100 people who have cured their cancer naturally!
For more success stories and additional information, I recommend ChrisBeatCancer.com and The Truth about Cancer (you can also click on the picture below to watch the first two episodes of this AMAZING documentary from The Truth about Cancer for FREE).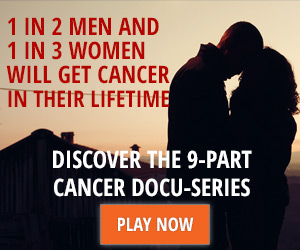 If you like the first two episodes as much as I did, purchasing all 9 episodes from The Truth About Cancer is easy and I HIGHLY recommend it. (I purchased the 'Instant Download PLUS DVDs And Transcripts' from the Gold Package. So far I've highlighted about 2/3 of every page in the transcript while following the DVD! It's that informative!) The evidence and information is mind-blowing. You will learn a lot! The Silver and Gold packages are below.
Similar articles:
Is Your Chemo Actually Causing Cancer?
Should You Question Your Oncologist?
How Chemotherapy Damages Your Body: Physical Changes
How Chemotherapy Damages Your Body: Internal Damage
Curcumin and its Natural Cancer Fighting Properties
The Worst Advice I've Ever Heard an Oncologist Give
Mammography vs. Thermography: The Truth
Damage and Side Effects of Surgery for Breast and Ovarian Cancer
For extra health tips and encouragement, as well as access to giveaways, sign up for the weekly newsletter today!
Sources:
http://www.netdoctor.co.uk/conditions/aches-and-pains/a2855/x-ray/
http://www.cancer.net/navigating-cancer-care/how-cancer-treated/radiation-therapy/side-effects-radiation-therapy
http://radiopaedia.org/articles/radiation-pneumonitis
http://www.cancer.org/treatment/treatmentsandsideeffects/treatmenttypes/radiation/understandingradiationtherapyaguideforpatientsandfamilies/understanding-radiation-therapy-long-term-side-effects
http://www.cancer.org/cancer/cancercauses/radiationexposureandcancer/xraysgammaraysandcancerrisk/x-rays-gamma-rays-and-cancer-risk-do-xrays-and-gamma-rays-cause-cancer   [1]