10 Safety Tips for Exercising when you have Cancer
Many cancer patients aren't told they can and should exercise. Which is a shame because exercising can make a big difference to your overall health and mood when you're healing from cancer/cancer treatments.
And most cancer patients are also not told how to exercise safely or what benefits come from exercising when you have cancer.
I feel it's important every cancer patient has this information, no matter what treatment is being used – conventional treatments or alternative ones.
So, we'll not only discuss the benefits of exercising when you have cancer, but also 10 tips to help you stay safe when exercising.
Why you should exercise:
Studies have shown that exercising when you have cancer is very important and has many health benefits, including:
* Strengthening muscle
* Boosting energy
* Relieving stress
* Lowering risk of blood clots
* Minimizing side effects from chemotherapy
* Reducing the chance of cancer returning
* Boosting mood
* Improving outlook on life
Many studies have shown that exercising when you're battling cancer makes a big difference during treatment and recovery. But it's important to know how to exercise safely.
10 Safety Tips for Exercising when you have Cancer:
1) Know which exercises you can do.
Generally, low-intensity exercises are best; things like: yoga, swimming, walking, stretching, using resistance bands, etc. Read these articles for more information:
9 Perfect Yoga Poses for Someone with Cancer
Exercising with Resistance Bands when you have Cancer
The Best Ways for Cancer Patients to Build Muscle
2) Talk with your doctor and/or physiotherapist about how much exercise you should be doing.
It's probably not recommended to exercise (even the low-intensity exercises listed above) for hours. So talk with your doctor and/or physiotherapist about how much time they recommend you exercise for.
It's also important for you to listen to your body. If you're feeling extremely fatigued, for example, exercising for just 10 to 15 minutes will be enough to give you more energy without tiring you out.
3) Know your limitations.
Each person is different. And each type of cancer has different effects on the body.
So if you have a cancer that is affecting your bones, your exercise routine and time doing those exercises, will be different than someone who has a cancer that doesn't affect their bones.
This goes not only for the type of cancer, but for the stage as well. Someone with stage 4 will have a different exercise routine recommended to them than someone with stage 1.
4) Have support.
Emotional support is very important on your journey back to health. But what I'm talking about here is the need for physical support.
If you begin to feel weak, faint, nauseous, or fatigued, having someone there to help you is vital.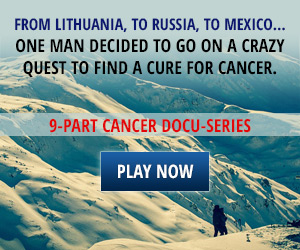 5) Warm up and cool down.
Warming up before you begin exercising, "gradually revs up your cardiovascular system by raising your body temperature and increasing blood flow to your muscles. Warming up may also help reduce muscle soreness and lessen your risk of injury.
Cooling down after your workout allows for a gradual recovery of pre-exercise heart rate and blood pressure." [1]
6) Shorter time, more often.
The goal, in general, is to get about 30 minutes of exercise each day. But it's best to spread that exercise time out throughout the day, for example:
* Begin the day with a 5 minute walk either around the house, hospital, park, etc.
* Do a little housework or cleaning for 5 minutes around lunch time.
* Then in the afternoon, walk the dog or exercise with resistance bands for 10 minutes, and then eat a snack.
* Before or after eating dinner, do yoga for 10 minutes.
And by the end of the day you've gotten 30 minutes of exercise without tiring yourself out.
7) Begin slow and build up.
Begin with very low-intensity exercises and work your way up to moderate-intensity exercises.
And keep in mind that intensity will vary from person to person. So what is high-intensity to one cancer patient, such as climbing up and down stairs, may be low-intensity to another.
But whatever low-intensity means for you, begin there and slowly work your way to moderate-intensity exercises.
8) Pay attention to your body.
If you are exercising and begin to feel any of the following, stop exercising and rest
until you feel better.
* Irregular pains
* Irregular pulse
* Chest pain
* Dizziness
* Difficulty breathing
* Numbness in your hands or feet
If you've had chemotherapy, radiation therapy, and/or surgery recently, talk with your doctor and physiotherapist before beginning an exercise routine.*
9) Drink plenty of fluids and eat throughout the day.
Staying hydrated is essential to your health and healing. If you are dehydrated, you'll feel fatigued, confused, and experience worsened side effects of treatment.
And eating throughout the day will give you strength and energy. Eating throughout the day will also make it easier and safer for you to exercise.
10) Know when you're done.
While exercising when you have cancer provides many benefits, pushing yourself too hard, or not letting yourself rest, will have negative health effects.
So, when you feel like you've done enough, rest, drink some water, and eat a snack. Basically, just listen to your body.
*Disclaimer: This information is for cancer patients in general and your doctor may recommend you refrain from certain exercises, or change the intensity, depending on the type/stage of cancer you have. Exercising when you have cancer is very important to your health and healing, but talk to your doctor and/or physiotherapist before beginning an exercise routine.
Similar Articles:
25 Questions you MUST ask your Doctor before Beginning Chemotherapy
100+ People who Cured their Cancer Naturally
Exercising with Resistance Bands when you have Cancer
The Worst Advice I've Ever Heard an Oncologist Give
10 Important Tips for Someone with Cancer
How Chemotherapy Damages Your Body: Physical Changes
Sources & References:
http://www.mayoclinic.org/healthy-lifestyle/fitness/in-depth/exercise/art-20045517  [1]