The Worst Advice I've Ever Heard an Oncologist Give
I can't tell you how many times I've heard a cancer patient tell me their oncologist told them it doesn't matter what they eat. I've even heard it from oncologists personally, "It doesn't matter what someone battling cancer eats as long as they get enough calories".
Au contraire.
So let me set the record straight, IT DOES MATTER WHAT YOU EAT!
With that said, I do understand why doctors will say that.
When a cancer patient experiences side effects from chemotherapy, such as: changes in taste, mouth sores, nausea, loss of appetite, etc., they eat less and in later stages of cancer this can lead to muscle and fat wasting, also referred to as cachexia (more precisely, cancer anorexia-cachexia syndrome).
This contributes to a number of deaths.
So oncologists recommend their patients eat anything as long as they are getting enough calories so that cachexia is avoided.
Unfortunately, cancer patients often times pass away from the chemotherapy and side effects it produces (and things like cachexia which is caused from the side effects of chemo) before they would from the actual cancer.
But although getting enough calories is very important, it's also extremely important you eat foods that fight cancer and support your immune system….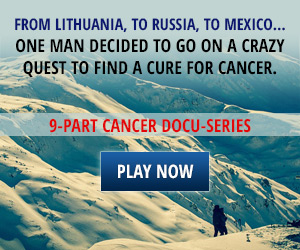 Pharmaceutical companies sponsor medical schools. And as you probably know, pharmaceutical companies make money from drugs, not food (or any natural substance because it can't be patented). So unfortunately doctors aren't given many opportunities to study nutrition. Or how nutrition plays a role in preventing and fighting cancer.
Although many medical schools require some sort of nutrition education, the requirements are very lacking. Only about 25% of medical schools, in fact, require a dedicated nutrition course. And on average, students have only 19.6 contact hours of nutrition instruction during their entire time at medical school. [1]
So it's fairly safe to conclude that an oncologist will know substantially more about the chemotherapy drugs (that they get a commission on – can you say conflict of interest?!) that they are prescribing than which spices, like curcumin and ginger, or vegetables, like garlic, are nontoxic to healthy cells but kill cancer cells.
Let's look at it like this… You eat McDonald's hamburgers, fries, a milkshake, and candy every day. You're not only feeding cancer cells, but you're also not helping your immune system fight the cancer. And you'll probably develop high blood pressure and diabetes.
Morgan Spurlock, in the movie Super Size Me, decided to challenge the idea that it doesn't matter what you eat. He ate breakfast, lunch, and dinner at McDonald's for 30 days. "The movie is a shocking testament to the health effects of fat-laden, calorie-dense and processed foods. In 30 days Morgan not only developed high blood pressure, sky-high cholesterol and a fatty liver bordering on cirrhosis, but he also gained 25 pounds, became depressed, moody, lethargic and completely lost his sex drive." [2]
Now you do the opposite of that, start eating only foods high in healthy fats and food containing amazing anti-cancer properties, you'll have MUCH better results. This is because you are giving your body what it needs to be healthy and fight the cancer. Which, by the way, is what your immune system is naturally designed to do.
Knowing that, wouldn't it make sense to enhance your immune system and support your healthy cells? Rather than destroy your healthy cells and your immune system with chemo?? Just my thoughts…
Anyway, when the immune system isn't functioning properly, that's when cancer cells grow and divide. Everyone develops cancer cells, but when you're healthy, your immune system finds them and destroys them. If you're eating junk, your immune system has to destroy the bacteria, parasites, and artificial crap on the unhealthy food you're consuming. And then on top of that, kill cancer cells, it's obviously going to have a more difficult time doing that.
SO, IT DOES MATTER WHAT YOU EAT!
Questioning your oncologist is important as well as knowing what chemo drugs are going into your body. And if something doesn't feel right, don't do it!
If you're using conventional cancer treatments, and you're told it doesn't matter what you eat, work with a different oncologist. Or at the very least, work closely with a highly recommended nutritionist who has experience with helping cancer patients.
I also recommend you check out ChrisBeatCancer.com. Chris beat his stage 3 colon cancer using food. If you're interested in reading his story read my post, "Should you Question your Oncologist?". In it I discuss how he was diagnosed, questioned his doctor, and how he beat the cancer.
Related Articles:
7 Powerful Fruits that Boost your Immune System
The Best Ways for Cancer Patients to Build Muscle
25 Important Questions you MUST ask your Doctor before beginning Chemotherapy
Is Your Chemo Actually Causing Cancer?
Exercising with Resistance Bands when you have Cancer
Curcumin and its Natural Cancer Fighting Properties
Damage and Side Effects of Radiation Therapy
10 Important Tips for Someone with Cancer
Mammography vs. Thermography: The Truth
Sources:
http://www.ncbi.nlm.nih.gov/pubmed/20736683  [1] http://well.wvu.edu/articles/eating_101_why_what_you_eat_matters   [2] (West Virginia University)